Study in Turkey with Scholarship
Turkey is literally situated at the geographical meeting point of Europe and the Middle East that leads to its alternate name as the bridge to the world. In the recent years, this beautiful country of diverse cultures has attained an impressive reputation as popular study-destination among international students. Let us present some reasons that might lead you to consider study in Turkey (with scholarship) from Bangladesh-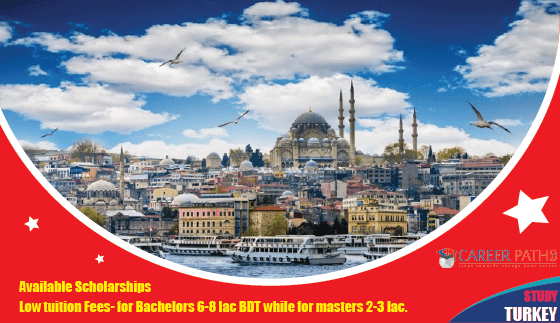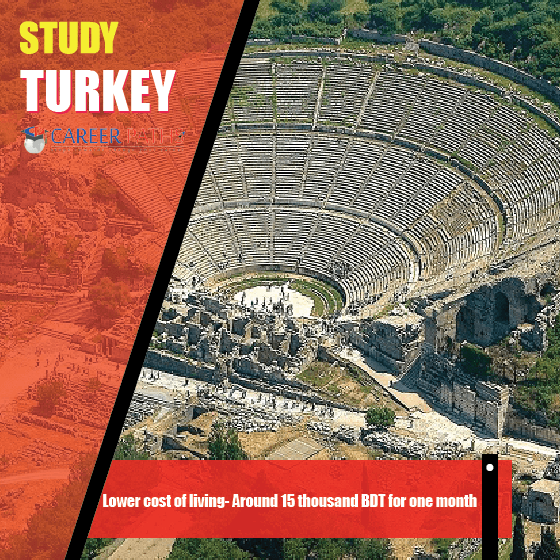 High standard of Education
Turkey, since the last decade, has seen a boom in its economy and has made a large number of successful graduate competitors in global job market. Unlike others, Turkish education system and its degrees is designed to meet the demands of global industries. Focusing on practical knowledge, Turkish universities offer a variety of courses and make sure that the courses have in-real employment opportunities. Therefore, studying in Turkey you will not merely become a graduate but will become a potential candidate to the employers worldwide.
Universities are integrated with Industries
Turkish universities have direct connection with both the local and international companies operating their business in Turkey. Consequently, more than 10 Turkish universities rank among worlds' best 500 universities. New courses are frequently launched in the universities so that, in one hand, students need not to wait to get job after completing university education and, on other hand, companies do not need to hire employers from outside of Turkey. Additionally, since universities are integrated with companies, you will have ample opportunities to develop in-demand skills doing internship. In fine, along with a Turkish degree you are more likely to be hired by companies within a very short time after your graduation.
Scholarship Opportunities
Turkish Government awards a large number of scholarships to international students every year. Scholarships generally cover full or partial tuition fees though sometimes it covers food and accommodation cost as well. However, if you hold comparatively good result on your last education that matches to the course you applied for, you can surely expect to get a scholarship. Moreover, even if you don't get any during the initial admission process, the doors will still be opened from the second year if you could showcase your potential performance in the previous year.
Lower tuition Fees
The very general concept, among international students, is that getting high standard of education always requires high tuition fees. However, Turkey has changed the concept delivering high quality education charging low tuition fees. International students can get their bachelors, masters and PhD in a hundreds of different subjects paying merely a few thousand of dollars. This is the principle reason why Turkey has become an ideal place to study. Thousand of Europeans are coming now to study thinking about lower cost of education here. For example, while you need to fund at least 20 thousand dollars to earn a master degree from European and Western countries, Turkey offers you to have the same quality degree with less than 5 thousand dollars. That means, studying in Turkey you are not only earning degree with developing your skills but are saving a lot of money that literally helps you reach your goal faster.
Get Foreign Affiliated Degrees
Studying in Turkey will give you the opportunity to earn foreign affiliated degree at affordable cost. There are several international campuses of British and European universities in Turkey and though they charge very lower tuition fees comparatively with the local campus in the respective countries. You can choose all the modern and trendy subjects for your bachelor and masters with European universities. However, though the campuses are conducted in Turkey, the teaching place, e.g., Turkey is not displayed in certificates since the whole curriculum and assessment system is controlled by the University itself.
Enjoy your Life in the most Diverse Culture
Studying in Turkey, you will have opportunity to live in a culture with the combination of partly Asia and partly Europe. In other words, Turkey is best known as the destination where East meets with the West. Consequently, you will learn and enjoy your life with myriad taste. Besides that, Turkey is a place of hundreds of natural beauties, historical places and several breathtaking architectural designs and monuments.
Lower cost of Living
The most common reason to choose Turkey is that International students enjoy a standard living with little amount of money comparatively with other European countries offering the same standard. Budgeting only $200 is sufficient to support oneself for one month that will cover food, accommodation and transport and clothing. Therefore, you as an international student, could concentrate more on your study releasing extra financial burdens.
Get Visa without Hassle
Getting admission to university is the first and foremost requirement to grant a visa to study in Turkey. However, unlike many other study-destinations, students do not go through a complex process and need not to present bank-statement to get visa. Rather, being offered a place from university is, in most cases, sufficient to grant visa.