Study in China with Scholarship
Get First-hand Experience: Since last decade, China has become the world's top rising economy and thus the students studying here get the first-hand experience. Every year, thousands of international students come here not only to study but to experience practical knowledge from Chinese top academics. China is frequently called a door of global opportunity since it is the World's largest exporting country. Completing your study from China, therefore, YOU will have great advantage to enter into both Chinese local and global job market. Do you want to know more about why you should study in China with a scholarship as a student of Bangladesh? Let's read carefully-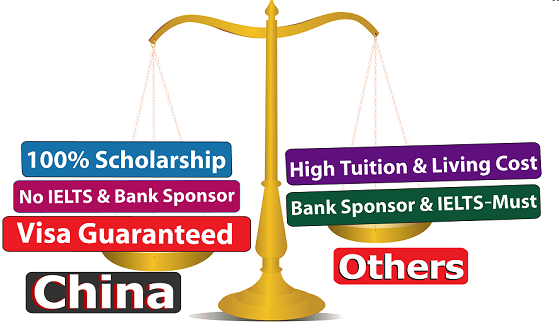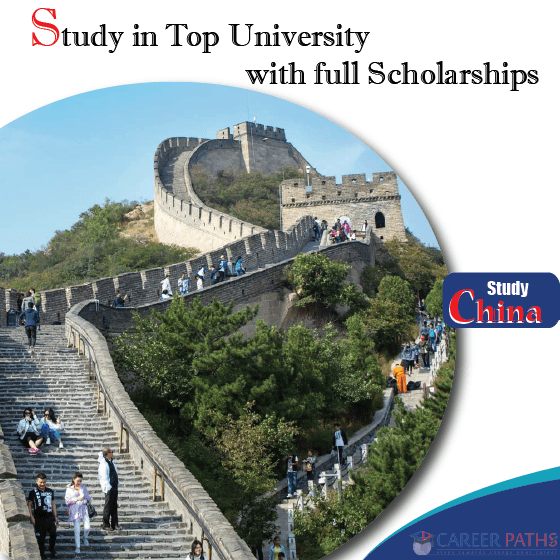 Study in Worlds' Leading University
More than 30 Chinese universities rank among the world's top 500 universities. Besides that, most of the Chinese universities are good mainly for the subjects of science, technology, medical, and engineering; therefore, if you intend to build a career in such fields, without a doubt, set your choice with China. Our previous student is studying Top world ranking Government university in China.
Tsinghua University
Peking University
Fudan University
University of Science and Technology of China
Zhejiang University
Shanghai Jiao Tong University
Nanjing University
Sun Yat-sen University
Wuhan University
Harbin Institute of Technology
No IELTS/Bank-Statement
While the popular study-destinations and their universities require IELTS and Bank-statement as mandatory, China requires nothing. Chinese universities rather look at whether YOU have a good academic background and good command in English speaking and writing. In addition, YOU don't need to deposit money into your account or show a bank statement as a document of financial support.
Quality Education with Low Tuition Fees
China attracts thousands of international students mainly because of its quality and job-centric education. Therefore, graduates from China are quickly employed around the world though YOU need a very low budget to become a graduate. If you can yearly budget from $2,000 to $5,000 for tuition fees, YOU can complete your bachelor's or master's degree from China. However, to have a degree with the same quality from the UK, for example, YOU must budget at least $10,000 yearly only for tuition fees.
Low Cost of Living
International students choose China also because they can afford a lower cost to meet the daily demands of life. Around $300 is a good amount to budget for one month's living expenses that will include students' accommodation, food costs, and transportation. However, with this amount you can stay students' residential hall, you can enjoy Chinese and International cuisine and of course the fastest metro and city bus to move around the city. Additionally, as a student, YOU can enjoy a student pass for public transport for only $15/month.
Get Scholarship
In recent years, the Chinese Government has started a scholarship scheme mainly for international students. The scheme has successfully attracted a large number of students, especially from developing countries. For the students who can't afford tuition fees, China is becoming the best option to study in. Plentiful scholarships from the Chinese government level and University level have expanded the opportunity to earn a degree without tuition fees. Moreover, many scholarships even cover living expenditures in addition to tuition fees. That means if you have talents and academic excellence, you don't need to have money to study in China except for flying cost.
Learn Fast Mandarin
Mandarin is the official language of China and the most-spoken language in the world with which more than one billion people speak. Living in the home of Mandarin, YOU will thus learn this language very quickly. YOU may know that China is the largest exporter in the World. So, mastering this language means you, for example, will have the opportunity to work with everyone involved in the export-import business globally.
Job Opportunities
Hundreds of Chinese multinational companies place among global 2000 companies. Besides that, China is the production house of several worlds' top multinational companies. That means, after completing the study, international students find more opportunities to start their careers with giant corporations.
Start Business
China is known as the most business-friendly country. First of all, reaching global customers or clients is relatively easier from China. Secondly, the raw materials for almost all known products are highly available including low manufacturing and labor cost. More importantly, the Chinese Government offers flexible business rules and bank loans to immigrants including international graduates from China. Being a graduate from China, YOU will therefore find an easy and accessible way to start your career as an entrepreneur.
Get Visa Easily
Unlike many countries, China shows a welcoming attitude to international students applying for visa. Generally, China always grants visas to students unless it finds duplicity among the applicants. Therefore, YOU might not lose your money by applying for a Chinese student visa.