Study in Estonia with Scholarship
Estonia is a small country that is situated in between Russia and Latvia; although Estonia is a small country it has incredible scenery, stunning architecture, and offers a classic European experience; the country is also known as the Silicon Valley of Europe; Estonia is a country where entrepreneurship and innovative solutions are highly welcomed.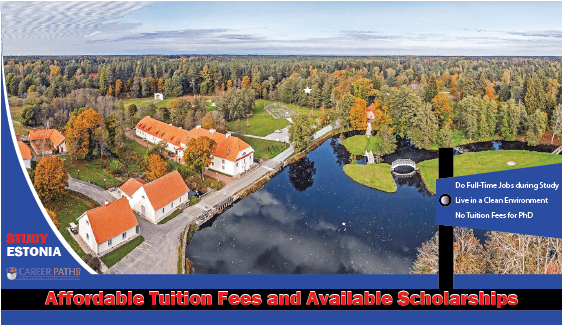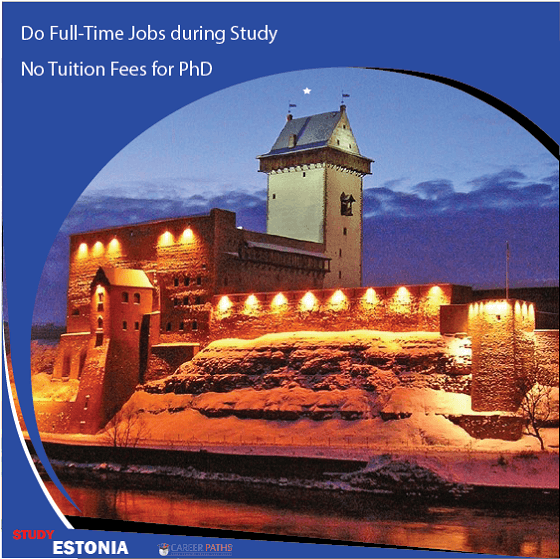 Why Study in Estonia
Low tuition fees.
Almost 250 programs taught in English
 Estonia is an e-society with e-residency, e-government, e-school, and so much more.
Europe's start-up hot-spot.
No limit on working hour during the study
2 entries in QS ranking worldwide.
15 public university with various study options
Application Period
Varies according to University but in general, starts in February and ends in March.
Best University in Estonia
Tallinn University (TU)
Estonian Entrepreneurship University of Applied Sciences (EUAS)
Estonian Business School (EBS)
Tallinn University of Technology (TalTech)
University of Tartu (UT)
Estonian Academy of Arts (EKA)
Estonian University of Life Sciences (EMÜ)
Admission requirements
Bachelor's/ undergraduate studies
Have completed their upper secondary (high school) with minimum GPA 3.5 / A -level completed / Equivalent
IELTS- Academic Test with a minimum score of 5.5.
Master's studies
Undergraduate/Bachelor's degree or equivalent of at least 4 years' duration.
IELTS – Academic test minimum of 5.5 points.
Many programs accept a Medium of study – English also.
Visa requirements in Estonia
Sponsorship: Student has to show that they have sufficient amount of fund for his/her living expenses during the time of his/her permit in their own account.
Checklist for Visa Application:
Complete Visa Application Form
Fees: Visa application fee- 100 Euro & Embassy fee – 10,000 Rupees
Copy of Valid Passport
Admission letter
Confirmation of Tuition fee payment (Refund policy applies)
Colour Photo
Statement of Purpose
Bank Statement
Health Insurance
Documents confirming Flights, Accommodation in Estonia
(Contact Us for latest update about the Visa Application procedure)
Employment / Work opportunity
Part time job opportunity:
No limit on working hours during the study.
Post-study work visa:
9 months job searching visa.
PR facility:
After finding a full-time job, opportunity to extend my visa.
After residing for 5 years in Estonia, an opportunity to apply for a permanent residence permit.
Bring your family member once you have a job after your studies.
Get an e-residency in Estonia and open a business anywhere in Europe.
How will Career Paths assist you?
We will make an Assessment of Your educational qualification and will prepare you for your Journey towards your Application & Admission.
We will guide you to choose the right Program and University according to your Career plan and eligibility.
We will 100% Ensure your admission.
Career Paths' Expert counselors will assist with Scholarship.
We can accommodate Tuition fee payment to the University.
Our Experts will guide You through the Visa application, book for an Embassy interview, and prepare you for the Embassy interview.
We can help you out with going to 'New Delhi' for providing Biometrics to Estonian Embassy.
We will also arrange Accommodation and help you find a job in your dream country.
We can also arrange Air-port pick up at your destination country.