Study in Russia with Scholarship
Russia, the most dominant superpower, has the most educated population in the world where more than half of its people get higher education. Every year more than 200,000 international students choose Russia as study-destination. The reason to attract such a large number of students is that it has world-class universities and worlds' famous academic leaders in more than two hundreds of academic fields ranging from medicine, dentistry, engineering and architecture to law, political science and Business administration. In addition, there is a wider opportunity to choose from 600 subjects to do Bachelor's, Master's, Specialists and Postgraduate's programs. Thus, study in Russia from Bangladesh (with scholarship) can be a attractive choice.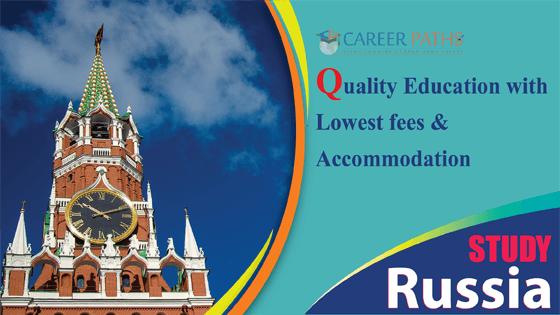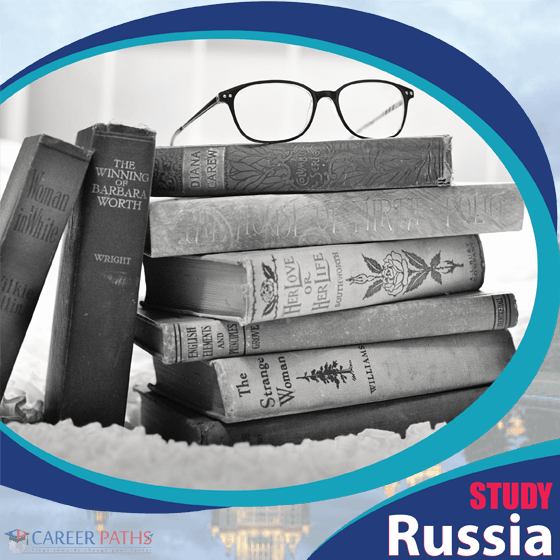 Quality Education
Anecdotes from students and research show that studying in Russian universities is an opportunity to build an excellent career. Russian universities emphasize on quality education rather than counting the degree-holders. For sure, YOU will gain theoretical and practical knowledge from the academic leader and therefore, you will acquire the strength to compete with the potentials in global job market.
Affordable Tuition Fees
Unlike many popular study-destinations, Russia offers the practical-approached quality education with comparatively lower costs. For example, to complete a four-year bachelor degree in Aerospace Engineering from the USA, YOU need to pay at least 40 thousand dollars whereas YOU can complete such a degree with same quality only paying 14 thousand dollars from UFA State Aviation University, Russia. In simple, with one year tuition fees for the USA YOU can pay your total tuition fees for Russia. Now choice YOURS!
Available Scholarships
Since last decade, Russia has been offering a large number of scholarships to international students. If YOU have good academic results, you can expect to have a scholarship to fund your tuition fees or even sometimes living expenditures. However, if you are unable to find scholarships by yourselves, take help from the best education consultancy firm having proper knowledge and having direct connection with Russian universities.
Low Cost of Living
Russia is a country where you will enjoy a standard living with the expense of enjoy-shopping. For example, you, as an international student, will travel here with the most developed and fastest communication system just paying $6 per month. You will have the best quality and delicious food costing less than $60 for one month while paying $100 you will easily accommodate yourself even in Moscow, the capital of Russia. In fine, $200-$250 is a good enough amount to meet your one month's living expenditures.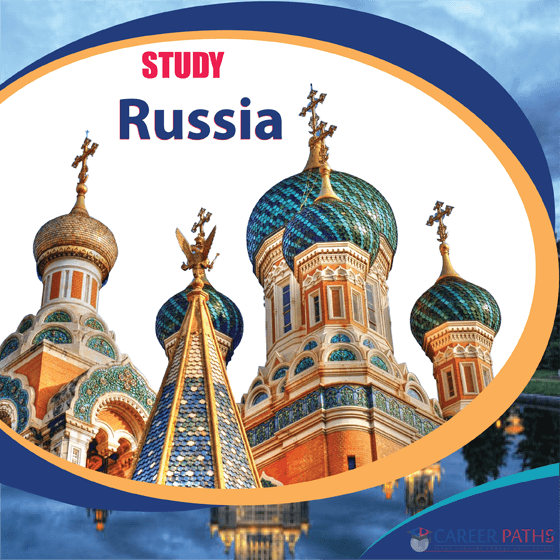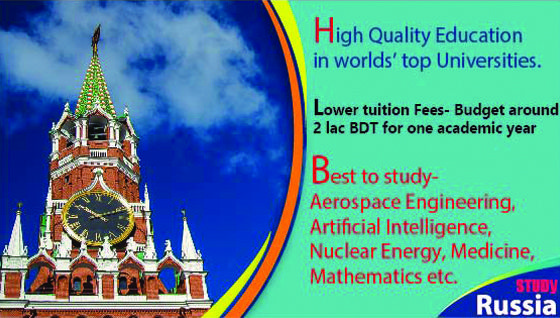 Opportunity to work after degree
After completing your degree, you will be given the opportunity to find work and within the specified time if you can come into the contract with employer you will obtain work visa and after three years with the working visa, finally you can apply for Russian citizenship. However, the employment must have a direct relation with the degree-subject you studied in Russia.
No IELTS
It is good news for many international students, especially for Asian, that Russia generally doesn't require IELTS as the proof of your English language proficiency. To get the admission confirmed, it is enough to show that if you have previously studied your program in English version at your university or college.
No Bank-Statement
Since the tuition fees and living expenditures are lower, students do not need to show a big fund as a proof to Embassy and thus it makes students free from extra financial burden before going to start their higher study.
Easy to get visa
Russia offers flexible immigration rules for international students and thus if it finds that the applicant is a prospective student, it issues student visa without putting any conditional hassles. Applying to Russia, students also get relief since there is a very slim chance to lose their time and money invested in the application process.
University List of Russia (Top Rated)
Lomonosov Moscow State University
Saint-Petersburg State University
Novosibirsk State University
Bauman Moscow State Technical University
Moscow State Institute of International Relations (MGIMO-University)
St. Petersburg State Politecnical University
National Research University – Higher School of Economics (HSE)
Moscow Institute of Physics and Technology State University
Tomsk State University
National Research Nuclear University (MEPHI)
Tomsk Polytechnic University
N.I Lobachevski State University of Nizhni Novgorod
Kazan Federal University
Ural Federal University
People's Friendship
University of Russia
Southern Federal University
Voronezh State University
National Research University Moscow Power Engineering Institute
Far Eastern Federal University